---
Markets
Despite the growing number of shopping centers and malls, marketsóboth "floating" and "wet" (wet meaning that the concrete floors are always wet)óremain one of the most popular ways for Thais to shop. Floating markets are the most appealing to tourists, but a visit to a wet market is more authentic.
Pak Khlong Talaat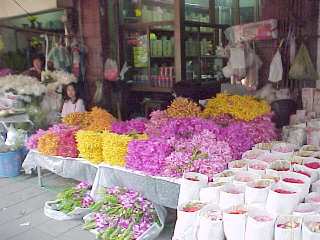 The Pak Khlong Talaat ("Talaat" means "market") is mainly, a wholesale market for fruit and vegetables, but also a consumers market. The wholesale area is concentrated near the river. The market is on Chak Phet Street and in side-streets on both sides of it, very close to the Memorial Bridge. If there is one market worth seeing, this is it. Pak Khlong is a wholesale clearinghouse for Bangkok flower vendors, it is considered Bangkok's main wholesale market. You can enjoy the best-smelling market in Bangkok.
The best time to go is very early morning, when boats on the Chao Phraya River and trucks from nearby provinces arrive with immense quantities of fresh cut flowers, vegetables,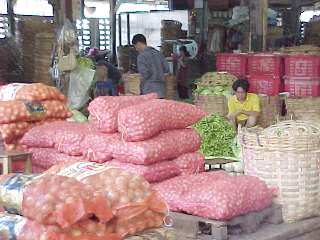 spices, and fruits, all piled high inside the market and along nearby streets. Things start to get frenetic around 2:00 A.M. to 3:00 A.M. There are great photo opportunities as all the flowers, particularly the orchids, are sold under fluorescent lighting.
The vegetable market too has a good smell. You can regard Pak Khlong Talat as the "Covent Garden" of Bangkok. This is indeed the main trading place for vegetables. Do not forget to visit the riverside (to see the wholesale area) and the building with a market inside.
If you are at Wat Pho, follow Maharaj Road with the Chao Phraya River on your right hand side. Walk up and down the market a few times. Do not forget the small streets at both sides and enjoy the best-smelling market in Bangkok.
Khlong Toei Market
Bangkok's largest wet market. Located on Rama IV Road, it runs from before dawn to nightfall, with early morning the most interesting time to visit. Do not be surprised to be the only foreigner wandering around. Be warned - the meat section (particularly the chickens) is not for the squeamish. Behind Khlong Toei is Penang Market, which is popular for unusually cheap electrical goods. People go here for the best bargains in electronic goods.
Talaat Banglampoo
Talaat Banglampoo on Samsen and Chakraphong Roads is an excellent spot for trying Thai street cuisine, buying fresh fruit and shopping for cheap clothes. It is worth a wander if you are nearby, but if you stay in the Silom area, try Talaat Bangrakóit is very similar.
Nakhon Kasem
It is popularly known among foreign residents as the Thieves Market. Its narrow streets once boasted the best antique shops in the city, but while these have largely gone now to more accessible locations, you can still find a wealth of oddities such as windup record players, ships' lamps, old-fashioned ice cream makers, and vintage musical instruments.
Chatuchak Weekend Market
A famous open-air market is the vast Talaat Chatuchak at Chatuchak Park, off Phahonyothin Road near Lard Prao. This authentic Asian-style bazaar, also called the Weekend Market, offers a little bit of everything (including giant dead roaches, neatly arranged for sale in the food section): handicrafts, clothes, antiques and plenty of delicious food. Periodically Chatuchak is raided by authorities for the sale of endangered animal species. Click here for more info on Chatuchak Weekend market.
Sampheng
A Lane in the heart of Chinatown, the oldest trading center in the capital. This is a long, narrow alley, covered in places, open in others, extending for seven blocks on either side of Ratchawong Road and offering an extraordinary range of wares- gold chains and fishing supplies, wedding souvenirs and labels for designer clothes, esoteric cooking equipment and plastic flowers, chinaware and camouflage cloth. When you emerge from Sampheng and cross Chakraphet Road, you enter the Pahurat Indian Cloth Market, almost as old and just as crowded, where everything from batik sarongs to English tweeds are to be found.
Talaat Thewet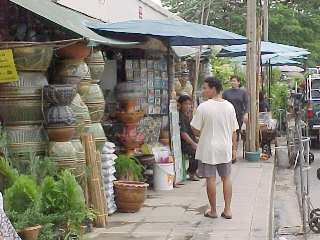 Smaller wet market. The easiest way to get there is by the Chao Phraya River Express boat, disembark at Thewes Pier (Tha Thewes). A standard Asian market in many ways, Thewet is best known for its selection of plants for sale. Talaat Thewet sells ornamental plants as well as food and household goods.
This market is specialized in plants, seeds and other gardening goods. The market is along a small canal ("klong"). This is the place to buy your tropical plants and tropical seeds, provided that you are allowed to import them in your country. But even if you cannot buy these things, it is a nice market to look around.
You can easily walk from Thewes Market to Wat Indravihan with the very large standing Buddha.
Floating Market
These are very important commercial centers for those living on the banks of the many canals and away from road. Every day, small boats laden with all kinds of tropical fruits and vegetables and other produce from the orchards or nearby communities assemble for business. There are four major floating markets around Bangkok.
Damnoen Saduak Floating Market
Taling Chan Floating Market
Bang Khu Wiang Floating Market
Tha Kha Floating Market
Click here for information on floating market.

---
Send mail to webmaster@HelloSiam.com with questions or comments about this web site.
Copyright © 2000 - 2002 HelloSiam.com All rights reserved.