---
Chinatown (Yaowarat)

In 1782, Rama I, the first Chakri Dynasty King indicated he wanted Bangkok, his new capital relocated to Rattanakosin Island. Bangkok's Chinese population, at that time a small trading colony moved east to what the guidebooks now call Chinatown. The Chinatown/Pahurat area and its back streets are bounded on the North and South by Luang Road and the Chao Praya River, on the East and West by Krung Kasem Road and Klong Ong Ang.
The Bangkok china town is quite big. But you won't feel anything, because Bangkok itself is quite like a Chinatown. Chinatown(s) are everywhere in Bangkok. The Chinatown here does not attract so much relatively then.
Chinatown could be considered part of downtown as it lies in the bend of the Chao Phaya River, south of the Democracy Monument area. The main traffic artery of Chinatown is Yaowarat Road. As any Chinatown anywhere in the world, the Chinatown of Bangkok is characterized by an above average density of population.
As a shopping area, especially for foreign visitors, Chinatown is widely overrated. While there are some bargains available, the selection and more so the quality of consumer goods is inadequate by Western standards. Most of the items to be found are not only cheap but also rather cheapish. For those who have never seen a Chinatown, it's worthwhile to go there once for a stroll.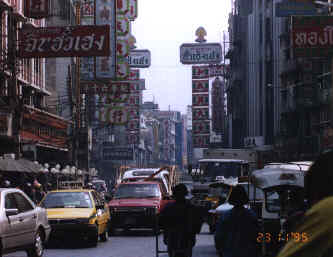 There seems to be much more traffic congestion in Chinatown than in the actual downtown a few kilometers to the north, and the smell of the area is one of car exhausts and sometimes open sewers.
The first thing you notice if you've been in Bangkok for a few days is that Yaowarat/Chinatown doesn't quite feel like the Bangkok you've been getting used to. And if you already know a little Thai you might notice, when you hear the language spoken in Yaowarat, there's just a bit of an accent.
If you start your walk at the western end of the quarter, the grounds of Wat Sampheng a temple that predates the founding of Bangkok by over a hundred years, merge with the covered markets at Soi Wanit (Sampheng).
Across the Klong in Pahurat, textiles, silk in particular, are much cheaper than anywhere else in the city. The place for electronic goods, antiques, tools and some clothes is Nakhon Kasem. The selection of silks and other fabrics is dazzling and the prices are right if you know how to test for the real thing. (Silk thread burns with white smoke and leaves a powdery ash.)
Wander into the quarter from any direction and you'll eventually end up on Yaowarat, Main Street Chinatown. The enclave's bewildering maze of back streets and narrow lanes is a treat for the senses. The sight of goods massed in orderly piles in front of the shop houses, on pieces of cloth on the footpath, the food stalls, the throngs of people and the noise tell you that you're in Yaowarat.
Everybody in Bangkok knows that you go to Chinatown for gold. Nearly pure, it's re-quoted in the shop windows every day and sold like any other commodity. You pay for it by the 'BAHT' weight. That's about 15 grams in the Thai system or a little more than half an ounce. It's almost pure and usually a good deal compared with European prices.
And just about everywhere else, everything under the sun is for sale. A bewildering array of stalls selling hardware, wholesale food, auto parts, antiques, fakes, textiles, stereos and second-hand goods. The people of Yaowarat love to bargain and they'll hang in for the deal if you're anywhere near the price they've got in mind.
For people-watching and a candid look at commercial life in Chinatown, Talaat Kao or the old fish market at the extreme east end of the quarter has plenty of action as the merchants bargain away their fresh seafood under the hot sun.
Temples in Chinatown have decidedly pagoda like elements to their exteriors. Some temples in the Chinese quarter follow the Thai Buddhist tradition, there are Taoist temples as well as followers of Mahayana Buddhism.
Attractions around CHINATOWN
Wat Chakarawat
This is an odd amalgam of buildings dating from the Ayutthaya period and thus predating Chinatown. The statue of a fat monk said to have pursued obesity to elude women is in a niche in the courtyard.
Wat Pathuma Kongkha
Also called Wat Sampheng this is one of the city's oldest temples. It predates Ayutthaya. At one time it was the execution of criminals of royal blood.
Nakhon Kasem
The thieves market, a few years ago this was the area where one searched to find ones belongings after one's house was robbed. Now it 's where you go to buy just about anything to fix your house or car. Also great for knock-off electronics.
Wat Monkhonkamalawat
Shortened to Wat Monkon. This is a Mahayana temple where local Chinese go to ask for rebirth in the here and now in the form of business coups and new cars and success in exams. Wat Mangkon Kamalawat and Boonsamakan Hall are the principal centers of celebration of the annual Vegetarian Festival, a principally Chinese observance.
Wat Kanikaphon
Wat Kanikaphon is at the end of a lane that begins with a busy Mahayana Buddhist temple called Wat Hong Kong. Kanikaphon was built by a former brothel owner to atone for her past. It's best known as Wat Mae Lao Feng after its benefactor. At Wat Kanikaphon the devout leave paper replicas of items they wish to acquire.

---
Send mail to webmaster@HelloSiam.com with questions or comments about this web site.
Copyright © 2000 - 2002 HelloSiam.com All rights reserved.