---
Chatuchak Park (Weekend Market)
Chatuchak Park is located adjacent to the Paholyothin and Viphavadi Rangsit Highway junction at Lard Prao, on the way to Bangkok's Don Muang Airport, is also the site of a famous weekend market that sells almost everything made and grown in Thailand
.
The Chatuchak weekend market is open every Saturday and Sunday except National holidays. Admission is free. The Skytrain goes directly there, exit at the "Mo Chit" station and follow the signs. Although the facility is covered do not forget to bring a hat and plenty of sunscreen. Chatuchak weekend market is paradise for browsers and bargain-hunters.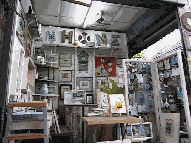 The Chatuchak Weekend market in Bangkok is billed as the "World's largest Flea Market". With over 9,000 individual shops it might not be the largest but it certainly is the most diverse. Practically everything under the sun is sold there including the smallest machinery, clothing of all sorts, antiques, pets, crafts from all over Thailand and of course all types food. You can even purchase Vietnam era memorabilia.
It is one place you want to go back to over and over again. And for anyone who loves shopping, get ready to go bonkers. More than 5,000 stalls on a 28 acre plot of land at Chatuchak Park, awaits to drive you insane with the sheer variety of merchandise and produce you can buy.
A good walk is recommended through the streets of Bangkok on the way to Chatuchak. There is so much to see, so much to do. Locals sit on old wooden roadside stools slurping steaming bowls of noodles for breakfast; pedestrians dash across roads nonchalant of the blaring vehicles racing towards them (makes you grit your teeth fearing for their lives), incense wafts out of shimmering temples where devotees WAI their Buddha, housewives with their full market baskets and children in tow.
Thai food - the truth is out there. On the streets. In the markets, by the klongs (canals). Ask locals where the good food is. Or let your eyes and nose do the talking. Thais are such a warm, friendly lot. Hawkers do not mind you asking a lot of questions, pushing your head into the stock pot for a whiff, examining the ingredients. They just smile and nod, pleased that you are doing them the honor of visiting their stall. That goes for local customers as well. They go as far as make you share a table with them, explaining in sign language and slowed-down Thai what they recommend. How you should eat the dish. The best drink to go with it.
As soon as you feel the air turn electric, you have reached Chatuchak weekend market. Something comes alive amidst the cacophony of noise - weekend shoppers and sellers buzzing; there is barking at pet stalls; screeching at cockfights; humming generators.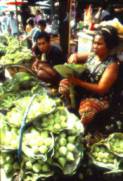 Five thousand stalls greet you. Where to begin? You may need Saturday and Sunday to go through the whole lot. And what a joy that is. You can roughly categorize the stalls into these sections- plants and flowers, fruits, household items, furniture, antiques, wet and dry market, pets and other animals including aquarium, food and refreshment, mobile vendors, handicraft, clothing, cockfight arena.
Hardwood furniture comes in all shapes and sizes. Then there is bamboo furniture and other items made from indigenous woods from the forests of Thailand all skillfully handcrafted into works of art. Simple teak coffee tables and dining items, elaborate bedroom sets, and more. Bamboo and cane furniture is much cheaper than solid wood and many people like it for its versatility, durability and tropical charm.
Next comes the antiques and handicraft. Imagine that original painting of Siamese cats against your ivory walls, or how about a brass fan for the patio, a couple of celadon pots for your indoor palm, rugs hand-woven by Meo tribes, brass cutlery and lovely porcelain. You can tell straightaway by looking at an item whether it is of good quality. The workmanship and material stand out. But do not set unreasonable standards - this is an open-air weekend market. If you want exceptional quality, head for the exclusive shops.
The beauty of Chatuchak is the element of fun, its curios and bazaar atmosphere. It is the same reason you head for the flea markets in Paris, the market square in Tuscany.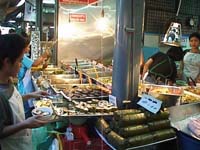 Time just flies by while you are buying, buying, buying. You will find plenty of foodstuff store stocking up on all kinds of Thai delicacies for our kitchen - fish sauce, palm sugar, spices and herbs, kapi (shrimp paste) and all kinds of things.
Chatuchak is not only good for buying stuff, it is also good for cultural insight. Watch Siamese fighting fish in action, catch a cockfight, see an artist capture the moods as he paints, see a Meo woman skillfully embroider delicate stitches, jasmine flowers turned into beautiful garlands, and much more. There are so many more stalls and so many more things to see. You may have covered 100 stalls by lunch time of the first day. There are 4,900 more to go - from flowers to toys to underwear made of flour sacks to colored chicks to shoes made of tyres to.....
It is easy to get caught up in the Chatuchak fever. And it is certainly a place you will never forget in your travel tales.
At all the stalls at Chatuchak, bargaining is acceptable and expected. There are no fixed rules on the process as it depends on the bargainer's skill and the shopkeeper's mood, but the final price can be reduced by as much as 30 per cent of the original price.
Keep in mind that Thais admire good manners and a sense of humor. They are put off by loud voices and bad temper.

---
Send mail to webmaster@HelloSiam.com with questions or comments about this web site.
Copyright © 2000 - 2002 HelloSiam.com All rights reserved.