---
---
HelloSiam.com welcomes you to Thailand.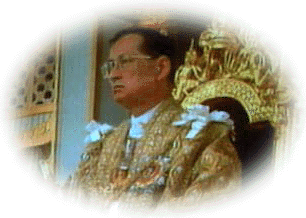 Siam is the name by which outsiders have known THAILAND for centuries. The country was known as SIAM to the world until 1939 and again between 1945 and 1949. On May 11, 1949, an official proclamation changed the name of the country to "Thailand" or "Prathet Thai" (in THAI language) , by which it has since been known. The word "THAI" means "FREE", and therefore "Thailand" means "Land of the Free."
Thailand first made a real impression on the West at the end of the 17th century, through the reports of a series of inquisitive Frenchmen. They were not the first Europeans to spend time in the kingdom, however. The Portuguese sent an envoy to the capital in 1511, shortly after they seized Malacca. The Portuguese joined resident Chinese, Japanese, Malays and Persians to make the Siamese capital one of the most cosmopolitan cities in the vast region now known as Southeast Asia. Modern and predominantly Buddhist, it is a Southeast Asian kingdom whose ancient equilibrium and present standing mingle in evolving harmony. Substantially, Thailandís distinctive and unparalleled characteristics stem from Indian and Chinese influences (harmoniously blended by Thai eclecticism), rich ethnic diversity, abundant natural and human resources, and over seven hundred years of cherished independence. Thailandís traditional culture is delicately tuned to the time-honored Buddhistís non-confrontational approach to life, and ideals of charity, tolerance and loving-kindness.
Thailand is a country of scenic diversity and ancient traditions, of tranquil temples and modern urban excitement. With and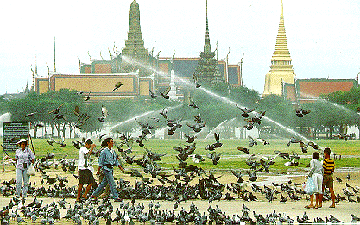 independent history going back more than seven centuries, it has managed to absorb a variety of cultural influences and blend them into something uniquely and memorably Thai.
Thailand is described by travelers as "the west exotic country in Asia", and with good reason. It is colored by a distinct culture, with a rich and varied heritage, and it posses a remarkable range of scenic beauty. Whatever your interests you'll find this a unique land, a place of kaleidoscopic wonders unseen elsewhere. You'll marvel at wondrous sights that give definition to a kingdom with an independent history stretching back more centuries.
The only country in Southeast Asia never colonized, Thailand was known for centuries as Siam. Thailandís government structure has undergone gradual and practical evolution in response to the changing environment. Ever since 1932, it has been a constitutional monarchy with a parliamentarian form of government. The bicameral parliament is composed of elected representatives and appointed senators. The Prime Minister is selected from among members of the House of Representatives. Appointed governors administer 75 of the country's 76 provinces. The Bangkok Metropolis Administration is administered by an elected governor and is divided into 38 districts. The country is divided into 76 provinces, each administered by an appointed governor, which are sub-divided into district, sub-districts, and villages.
---
Send mail to webmaster@HelloSiam.com with questions or comments about this web site.
Copyright © 2000 - 2002 HelloSiam.com All rights reserved.