GEOGRAPHY

---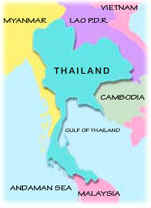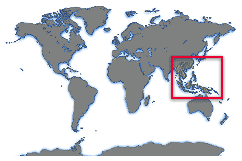 The Kingdom of Thailand, located in Southeast Asia on the Gulf of Thailand and the Andaman Sea. It is bordered by Laos to the Northeast, Myanmar to the North and West, Cambodia to the East, and Malaysia to the South. Thailand, although rich in rubber and in mineral resources, was never colonized by Europeans and has existed as a unified monarchy since 1350. The capital, BANGKOK, an attractive blend of Western and Thai architecture, was established in 1782.

Thailand extends about 2,500 kilometers from north to south and 1,250 kilometers from east to west, with a coastline of approximately 1,840 kilometers on the Gulf of Thailand and 865 kilometers along the Indian Ocean.
Location: Southeastern Asia, bordering the Andaman Sea and the Gulf of Thailand, southeast of Burma

Geographic coordinates: 15 00 N, 100 00 E

Map references: Southeast Asia

Area
Total: 514,000 Square Kilometer
Land: 511,770 Square Kilometer
Water: 2,230 Square Kilometer

Land boundaries
Total: 4,863 KM
Border countries: Myanmar (Burma) - 1,800 KM, Cambodia - 803 KM, Laos - 1,754 KM, Malaysia - 506 KM
Coastline: 3,219 KM

Maritime claims
Continental shelf: 200-M depth or to the depth of exploitation
Exclusive economic zone: 200 NM
Territorial sea: 12 NM

Terrain: Mountainous North, Central Plain, Khorat Plateau in the Northeast, and Southern Ishtumus

Elevation extremes
Lowest point: Gulf of Thailand 0 M
Highest point: Doi Inthanon 2,576 m

Natural resources: Tin, Rubber, Natural Gas, Tungsten, Tantalum, Timber, Lead, Fish, Gypsum, Lignite, Fluorite

Land use
Arable land: 34%
Permanent crops: 6%
Permanent pastures: 2%
Forests and woodland: 26%
Others: 32% (1993 est.)

Irrigated land: 44,000 Square Kilometer (1993 est.)

Natural hazards: Land subsidence in Bangkok area resulting from the depletion of the water table. Droughts and Flood.

Environment - Current Issues: Air pollution from vehicle emissions, Water pollution from organic and factory wastes, deforestation, soil erosion, wildlife populations threatened by illegal hunting.

Environment—International agreements
Party to: Climate Change, Endangered Species, Hazardous Wastes, Marine Life Conservation, Nuclear Test Ban, Ozone Layer Protection, Tropical Timber 83, Tropical Timber 94
Signed, but not ratified: Biodiversity, Climate Change-Kyoto Protocol, Law of the Sea

Note: controls only land route from Asia to Malaysia and Singapore.

---
Send mail to webmaster@HelloSiam.com with questions or comments about this web site.
Copyright © 2000 - 2002 HelloSiam.com All rights reserved.