| | | |
| --- | --- | --- |
| | NATIONAL FLAG and NATIONAL ANTHEM | |
---
National Symbol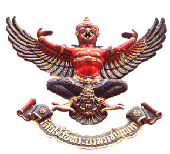 The Thai national and royal symbol is the Garuda, a mythical half-bird half-human figure (steed of the Hindu god Vishnu) that adorns King Bhumibol Adulyadej's scepter and royal standard. Many ministries and departments have incorporated the Garuda into their insignias. Moreover, the Garuda signifies "By Royal Appointment," and is awarded, at the personal discretion of His Majesty the King, as a sign of royal approval to companies that have rendered outstanding economic and charitable services to Thailand.
National Flag

Thailand's national flag, ceremoniously raised each morning at 0800 Hrs and lowered at 1800 Hrs in every town and village, is composed of five horizontal bands of red, white, and blue. Outer bands of red representing the nation enclose equal inner bands of white evoking religion. The blue band, occupying the central one-third of the total area, symbolizes the monarchy. The harmony of design expresses the complimentary nature of these three pillars of the Thai nation.

This tri-colored flag, called in Thai the "trirong", first introduced by King Vajiravudh (Rama VI) in 1917, succeeded an earlier design that placed a white elephant (emblem of the absolute monarch) on a red background.
National Anthem
The national anthem is played on all ceremonial occasions of national importance and while the national flag is being raised and
lowered. Professor Phra Jenduriyang composed its music in 1932, while the lyrics, as presently constituted, were written in
1939 by Colonel Luang Saranuprabhandh. A literal translation is as follows:
Thailand is the unity of Thai blood and body,
The whole country belongs to the Thai people,
Maintaining thus far for the Thai,
All Thais intend to unite together,
Thais love peace, but do not fear to fight,
They will never let anyone threaten their independence,
They will sacrifice every drop of their blood to contribute to the nation,
Will serve their country with pride and prestige-full of victory.
Chai Yo (Cheers)
Royal Anthem
| | |
| --- | --- |
| Thai Language | English Translation |
National Day
December 5, the birthday of His Majesty King Bhumibol Adulyadej, is generally regarded as National Day. This day is a public holiday.

---
Send mail to webmaster@HelloSiam.com with questions or comments about this web site.
Copyright © 2000 - 2002 HelloSiam.com All rights reserved.