MUAY THAI
---
Thai Boxing (Muay Thai)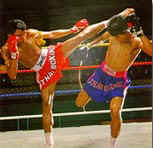 Muay Thai, translated into English as Thai Boxing, is the national sport of Thailand and is a martial art with origins in the ancient battlefield tactics of the Siamese (or Thai) army. It evolved from Krabi-Krabong, literally sword and baton, the hand-to-hand tactics of the Thai army. The early Muay Thai bouts pitted different companies within the Siamese army against each other with few rules and no weight divisions or time limits. They became quite popular and eventually were shown in stadium across the country. In the early 20th century, time limits, boxing gloves as well as a uniform set of rules were introduced. During the latter half of the 20th century Muay Thai was exported to many countries and is now practiced by hundreds of thousands of people all over the world.
Muay Thai is known as "King of the Ring" in kickboxing circles. These fights feature punches, kicks, elbows, knees, standing grappling and head-butts to wear down and knock out their opponent. Thai training methods develop devastating power, speed and superb cardio-vascular endurance as well as fighting spirit. Muay Thai training as also quite safe thanks to sophisticated pad training that evolved to keep fighters healthy between fights. Muay Thai has also proven very effective outside the ring and has been embraced enthusiastically by practitioners of a variety of self-defense, sporting, military and law enforcement activities.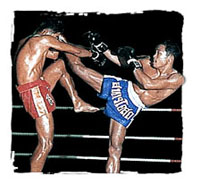 Thai Boxing is an art form that utilizes all the bodies natural weapons to create a devastating fighting style, as competitive in the ring as it is effective in real self-defense. In Thai Boxing, hand techniques from Western Boxing are combined with elbows, knees and powerful kicking making it one of the most effective and respected kickboxing art in the world. Thai Boxing is renowned for its effectiveness, power, conditioning and simplicity.
Thai boxing is both a sport and means of self defense. Contestants are allowed to use almost any part of their body: feet, elbows, legs, knees, and shoulders, are all weapons. The playing of traditional music during bouts makes for even greater excitement. The two main venues in Bangkok for viewing the Thai boxing are:
Ratchadamnoen Stadium
On Ratchadamnoen Nok Road, it is open every Monday and Wednesday at 6:00 P.M., Thursday at 5:00P.M. and 9.00 P.M., and Sunday at 4:00 P.M. and 8:00 P.M.
Lumpini Stadium
On Rama IV Road, it is open every Tuesday and Friday at 6:00 P.M., and Saturday at 5:00 P.M.
International visitors who wish to learn Thai boxing can contact the Muay Thai Institute, 336/932 Prachathipat, Thanyaaburi, Pathum Thani. Telephone - 9920096-9. To know more about Muay Thai, visit "www.thaiboxing.com".
Muay Thai Live
Bangkok and Vicinitiy
Lumpini Stadium
Rama IV Road, Bangkok. Telephone - 2528765, 2514303, 2537702, 2537940
Fight Nights: Tuesdays and Fridays from 6:30 P.M., Saturday afternoons 5-8 P.M., Saturday nights from 8:30 P.M.
Ticket prices: 220, 440, 1000 Baht (ringside)
Ratchadamnoen Stadium
Ratchadamnoen Nok Avenue Telephone - 2814205, 2801684-6
Fight Nights: Mondays, Wednesdays, Thursdays, Sundays, starting at 6:30 P.M.
Ticket Prices: 220, 440, 1000 Baht (ringside), special discount on Sunday nights
Channel 7 Stadium
Behind the old Northern Bus Terminal (Morchit), opposite Chatuchak Park, Bangkok
Telephone - 2720201
Fight Schedule: Sundays, from 1:45 P.M., third Wednesday of each month starting at 12:00 noon
Ticket prices: Free admission
Rangsit Stadium
336/932 Prachathipat Road, Rangsit, Pathumthani
Telephone - 9920099
Fight Nights: Wednesdays & Thursdays from 8:30 P.M.
Ticket Prices: 110 (women only), 220 Baht
Samrong Stadium
Samrong Road, Samutprakarn Telephone - 3933592
Fight Nights: Fridays and Sundays, from 8:30 P.M.
Ticket Prices: 100 Baht for women, 200 Baht for men
Omnoy Stadium
74 Moo 12 Tumbon Omnoy, Amphoe Krathumbaen, Samutsakorn
Telephone - 4204317
Fight Schedule: Saturdays from 11:45 A.M.
Tickets: 200 Baht
International Stadium, Chachoengsao
23/22 Moo 6 Thepkunakorn Road, Tumbon Sothorn, Amphoe Muang, Chachoengsao
Telephone - (38) 821746-50
Fight Schedule: Sundays, from 4:00 P.M.
Tickets: 200 Baht
Chiang Mai
Dechanukrau Boxing Ring
Bumrungrat Road, Amphoe Muang, Chiang Mai
Fight Nights: Saturdays and Sundays
Phuket
Phuket Boxing Stadium
Phuket Road, Amphoe Muang, Phuket
Fight Nights: Fridays from 8:00 P.M.
---
Send mail to webmaster@HelloSiam.com with questions or comments about this web site.
Copyright © 2000 - 2002 HelloSiam.com All rights reserved.