---
Wat Suthat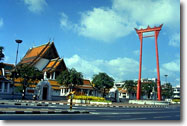 Wat Suthat Thep Wararamworavihara is located on Bamrung Muang Road. It took 27 years, during the reigns of the first three kings of the Chakri Dynasty, to complete the construction. This temple is noted for its 19th century murals. The Viharn (preaching hall) should be seen for its collection of gilded Buddha images. The temple used to house a huge door with intricate carving. In front of the temple is the Giant Swing or Sao Ching Cha where a Brahmanic ceremony had taken place until the early 20th century. Many shops near the Giant Swing stock a very comprehensive range of Buddhist religious supplies.
Wat Suthat is one of Thailand's six most important temples. Phra Sisakayamuni is the principal Buddha Statue of the temple. This Buddha Statue is placed over the heart of the city in correspondence with Tamrab Mahapichaisongkram and the meaning of Pang Marn Vichai Style, that is the victory over the demon.

The present abbot of Wat Suthat Thep Wararam has a very strong intention to develop this temple to be very beautiful. Also he intends to make this temple as a meeting place for the listening to and practicing the Buddha's doctrines, and as a university of art, which everyone can study and appreciate, whenever everyone will. Moreover, it is a tourist place for the foreigners, which will disseminate the Buddhism and Thai arts. The most important question is the story, which is the evidence of the temple, to lead the goal of both the temple and the visitors.
For more information on Wat Suthat, please visit "www.watsuthat.org".
The temple complex is open daily from 9:00 A.M. to 5:00 P.M.

---
Send mail to webmaster@HelloSiam.com with questions or comments about this web site.
Copyright © 2000 - 2002 HelloSiam.com All rights reserved.