---
Wat Saket (The Golden Mount)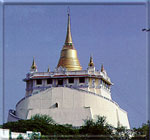 Wat Saket's major feature is the Golden Mount, dating from the 1800. It is an artificial hill topped by a gilded pagoda which is 260 feet in height from its base. Begun by King Rama III and completed in the reign of King Rama IV, the golden mount is one of the most celebrated landmarks in Bangkok's old area. The golden Chedi houses relics of Buddha and affords visitors who climb its 318 steps a panoramic view of Bangkok from the top.

Wat Saket is easily recognized by its golden Chedi atop a fortress-like hill near the pier for Bangkok's east-west klong ferry. The wat was restored by King Rama I, and 30,000 bodies were brought here during a plague in the reign of Rama II. The hill, which is almost 80 meters high, is an artificial construction begun during the reign of Rama III. Rama IV brought in 1,000 teak logs to shore it up because it was sinking into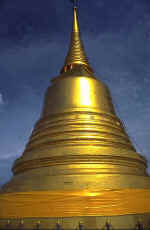 the swampy ground. Rama V built the golden chedi to house a relic of Buddha, said to be from India or Nepal, given to him by the British. The concrete walls were added during World War II to keep the structure from collapsing. All around the Wat are the accommodation where the monks live and go to school.
The Golden Mount, a short but breathtaking climb that's best made in the morning, is most interesting for its vista of old Rattanakosin and the rooftops of Bangkok. Every year in the 12th lunar month (late October to mid-November - for nine days around the full moon) Wat Saket hosts Bangkok's most important temple fair, when the Golden Mount is wrapped with red cloth and a carnival erupts around it, with food and trinket stalls, theatrical performances, freak shows, animal circuses, and other monkey business. People come here at this time to pay respect to Lord Buddha's relics, and to rejoice in the festive occasion. However, at present times, the Golden Mount festival is not as popular as it used to be in the olden days.
Wat Saket is located between Ratchadamnoen Klang and Boripihat road. The temple complex is open from 9:00A.M. - 5:00P.M. Entrance to Wat is free, however admission to the Chedi is 5 Baht.

---
Send mail to webmaster@HelloSiam.com with questions or comments about this web site.
Copyright © 2000 - 2002 HelloSiam.com All rights reserved.