---
Wat Ratchabophit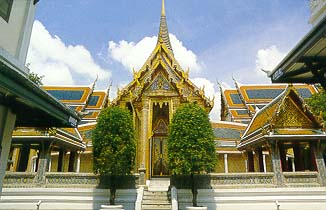 The temple is located on Fuang Nakhon Road near Wat Pho. Built by King Rama V in 1869, it was in keeping with tradition that each monarch constructed a temple to mark his reign. The temple is a mixture of local and western styles, showing an awakening interest in new ideas and a desire to experiment with them. The exterior of the chapel is in Thai style but the interior is decorated in European style.

---
Send mail to webmaster@HelloSiam.com with questions or comments about this web site.
Copyright © 2000 - 2002 HelloSiam.com All rights reserved.