---
Wat Bowon Niwet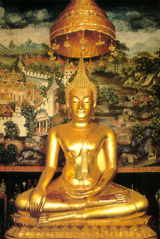 Wat Bowonniwet Vihara is a Royal Buddhist monastery of the Dhammayut tradition. The monastery's name comes from the Pali language, 'Pavara' and 'Niwesa', and translates as Temple of the Excellent Abode.
Wat Bowonniwet Vihara, or Wat Bowon for short, has a long and dazzling history beginning with the arrival of the first abbot, H.R.H. Prince Mongkut, in 1836. The prince bhikkhu, also known by his ordained name, Vajiranyana, was ordained for twenty-seven years and abbot of this monastery for fourteen years before he left the Order. On death of his brother, the third king, and ascended the throne as King Rama IV. Built in 1829, it is the shrine-hall of Phra Phutthachinasri which was molded in about 1357. Wat Bowon Niwet is one of the most important temples of Bangkok, whose one-time chief abbot was King Rama IV before he ascended the throne. Other Chakri Kings who had resided here during their monkhood include King Rama IV and King Rama VII, as well as His Majesty King Bhumibol Adulyadej (Rama IX).
Before the arrival of Venerable Vajiranyana, the land presently occupied by Wat Bowonniwet was actually two different monasteries separated by a canal ; Wat Mai to the east and Wat Rangsee to the west. As Wat Mai was abbot-less at the time, H.M. the third king requested the prince bhikkhu to assume the position. Later, during the reign of the sixth king, the two monasteries were incorporated into one resulting in the temple's present dimensions.
The temple is located on Pra Sumeru road in Banglamphu area.
For more information on Wat Bowon Niwet, visit "www.watbowon.org"

---
Send mail to webmaster@HelloSiam.com with questions or comments about this web site.
Copyright © 2000 - 2002 HelloSiam.com All rights reserved.