---
Wat Benchamabophit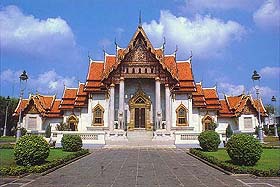 Wat Benchamabophit, also known as the Marble Temple, this temple is on Sri Ayutthaya Road near the Chitralada Palace. The temple is well-known because its main building was constructed during the reign of King Rama V, as the source of religious heritage for the future generations of Thais. It employs European ecclesiastic details, such as stained glass windows, and contains a superb cloister collection of bronze Buddha images. The main shrine was originally intended to house a highly sacred and revered Budddha image known as Phra Buddha Shinaraja, which at the time was located in the province of Phitsanulok (approximately 300 km north of Bangkok). But when construction of the Marble Temple was complete, a replicate of the Phra Buddha Shinaraja was created and enshrined in the temple instead, due to that the people of Phitsanulok and northern Thailand were unwilling to part with their Buddha image, the main source of their religious inspiration.
The Marble Temple, built entirely out of white marble as its name suggests, manifests the devotion that Thai people have for Buddhism. The architectural and engineering detail put in to the construction of the Wat Benchamabophit is rare by modern standards.
The best time to visit this temple is early in the morning when Buddhist monks are chanting inside the chapel. The interior of the main building is magnificently decorated with cross beams of lacquer and gold. A large collection of Bronze Buddha lines the walls of the spacious inner courtyard. Once the visitor enters the temple grounds, he or she will experience a sensation of tranquility and peace.
The main building is open to visitors until 5:00 P.M. There is an admission charge of 10 Baht. Telephone - 2812501.

---
Send mail to webmaster@HelloSiam.com with questions or comments about this web site.
Copyright © 2000 - 2002 HelloSiam.com All rights reserved.