---
Traditional Handicrafts
Thailand is renowned for its traditional handicrafts. Produced in variety of designs, these make not only ideal souvenirs gifts, but are also perfect for design and home decoration.
No finer examples of craftsmanship can be found then those produced under royal patronage. In 1976,Her Majesty Queen Sirikit sought a way both to give rural Thais alternative sources of income and to revive some of the Kingdom's traditional crafts. The result was the establishment of the Foundation for Promotion of Supplementary Occupations and Related Techniques, popularly known as SUPPORT. The project has flourished and today craftsmen working under SUPPORT guidance produce a wonderfully rich collection of many kinds of traditional handicrafts.
Among items available are exquisite hand-woven silks, including the famous tie-dyed Mat Mee silks of the Northeast, elegant Yan Liphao woven handbags, Thai cottons and many other reasonably priced souvenirs. These SUPPORT handicrafts can be purchased from the Foundation's chain of exclusive outlets, known as Chitrlada Shops, and all proceeds go to the on-going development of the project.
Rattan and Wicker Work

Thailand has earned a fine reputation for its high quality rattan and wicker furniture. Both elegant and durable, these items are available in a wide variety of designs and styles. Decorative objects in rattan and wicker work display an excellent standard of workmanship, and are ideal for lending a light tropical touch to any interior decor. Bamboo and rattan are woven and fold to form artistic shape, showing their neatly patterns and charm to attract most observers.
Nielloware
The art of kruang tom, as the Thais call nielloware, is believed to have come to the country during the Ayutthaya period. The precise origin is uncertain; some scholars say it came from China, while others give Persia as the source.
Fine nielloware is usually made of pure silver, sometimes later plated with gold. The metal is bought by the craftsmen in thin sheets, from which the desired shape is cut and welded into a crude, three dimensional form.
After the design has been engraved - usually traditional, such as Thai flame or an intricate floral motif - an oxidizing solution is applied to the parts in high relief, turning them a permanent blue-black. The piece is then filed to remove all the rough edges and given a final polishing.
Nielloware objects have been made in almost every conceivable shape, from elaborate coffee and tea sets to fittings for handbags and buttons. It is one of Thailandís most distinctive and beautiful crafts.
Practiced in southern Thailand for hundreds of years. Workmanship of high quality today finds expression in a number of beautiful nielloware trays, boxes, vases and other items widely available in Bangkok and in the South, notably in the province of Nakhon Si Thammarat.

Brass and Bronzeware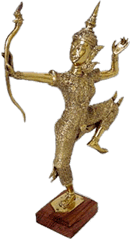 Shoppers have long recognized the excellent value of made-in-Thailand brass and bronze-ware. Techniques combine traditional methods with modern innovations, such as silicon coating to prevent tarnishing, while designs similarly reflect both the old and the new. Especially popular are fine cutlery sets, bowls and other tableware, as well as brass sculptures of figures and animals in classical and contemporary styles.
Lacquerware

Very Oriental and very attractive are lacquer ware bowls, boxes, tray and numerous other items for interior decoration or for souvenirs. Native to Chiang Mai and the North, the craft involves coating split bamboo or wood with lacquer, then adding intricate hand-painted designs. Typically, objects are produced in either gold-on-black lacquer or yellow and green on a red-brown background.
Silverware
Silver-beating is another craft traditional to Chiang Mai. Bowls and boxes with skillfully worked patterns are popular buys, while vases and other ornaments in both old and modern designs are available, particularly in Chiang Mai and Nakhon Phanom but also in Bangkok and else where in Thailand.
Pewterware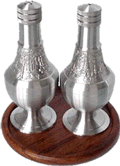 Like silver, pewter is fashioned with great skill by Thai craftsmen, and the smooth, silky finish of this attractive alloy is often enhanced by delicate decoration. Among pewter ware items are plates, boxes, vases and pocket flasks.
Ceramics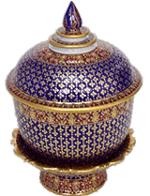 Pottery of consistently high artistic value has been produced throughout the Thai history. Various styles, both indigenous and Chinese-influenced, have predominated at various periods to leave a rich legacy. So today's shopper is presented with a full choice of both faithful reproductions of traditional styles and modern wares. Among the former are the distinctive sea-green celadon, Chinese blue-and-white and the colorful Benjarong wares which are unique to Thailand. Modern ceramics are also produced in an exciting range of contemporary designs which exemplify the continued vitality of the craft. Whether old or new in style, Thai ceramics are available in many forms -- from dinner services and bowls to vases and lamp bases, from small figurines to huge glazed water jars perfect for garden decoration.

---
Send mail to webmaster@HelloSiam.com with questions or comments about this web site.
Copyright © 2000 - 2002 HelloSiam.com All rights reserved.