---
Bangkok PlayHouse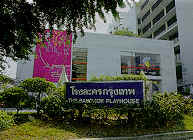 Located on Petchaburi Road (near Ekamai Intersection) near Charn Issara II building, Bangkok Theater is where modern dramas are staged every weekend from Friday to Sunday. For more information about current programs and timetable please call 319-7614-5.
National Theatre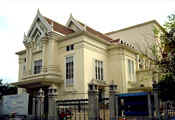 National Theater is directly under the administration of the Department of Fine Arts with the mission to organize theatrical performances particularly the Sisuk Nattakam program, which is staged on the last Friday and Saturday of each consecutive month. It is located on the right side of the National Museum. For more information please telephone 224-1342 or 221- 8191 during office hours.
Thailand Cultural Center
Located on Ratchadaphisek Road, the Thailand Cultural centre was first opened December 1987, celebrating the 60 the birth anniversary of His Majesty King Bhumibol Adulyadej. It is fully integrated venue for social education and cultural activities. The main buildings include the MAIN HALL, a 2,000 seat auditorium fully equipped for stage presentations, concerts and international conferences. The SMALL HALL, a 500 seat multi-purpose auditorium integrated with a 1,000 seat amphitheatre, and the SOCIAL EDUCATION AND EXHIBITION BUILDING which houses a cultural library and Thai Life Permanent Exhibition. Thai Life Permanent Exhibition can be seen on Mondays through Fridays from 9:30 A.M. to 4:30 P.M. For current programme at the MAIN HALL, please call 2470028, 2470013.
ChalermKrung Theatre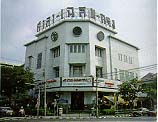 Located on Charoenkrung Road of Phra Nakhon District, the theater used to be Chaleomkrung movie house in the old days.The place was renovated to be a modern theater, well equipped with special effects and techniques like laser and multi-vision systems. There are a wide variety of performances being offered like Khon (drama enacting scenes from Ramayana), plays, period dramas and movies. For more information about current programs please call 2220434, 2258757-8, 2221352.

---
Send mail to webmaster@HelloSiam.com with questions or comments about this web site.
Copyright © 2000 - 2002 HelloSiam.com All rights reserved.