---
Sukhumvit

In Bangkok, Sukhumvit Road is a long straight 6 to 8 lane road with only a few major intersections. Except for a few, all side streets (a side street is called Soi in Thai) are dead-end streets. While this sounds depressing at the first moment, itís actually a major advantage of the Sukhumvit Road area as a residential district. As the side streets are dead-end streets, there is no passing traffic and in some of the Sois one can live as quiet as in a small town.
SUKHUMVIT neighborhood, with its hundreds of modern Restaurants, Bars, Music Places, Discos, Clubs, Espresso and Pastry Shops, Bookstores, Internet Cafes, Sports and Fitness Spas and Shopping Centers, its crowds of Thais dressed in Armani gray and black, and its cosmopolitan expats, is Thailand's epicenter of everything that's hip, trendy and cool.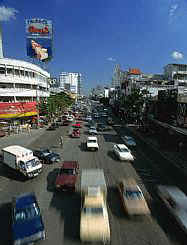 While the lower Sukhumvit Road between Soi 3 and Soi 21 is rather touristy, the upper part up to Soi 71 is where many foreign residents live. Around Soi 33 is an area with an especially good Western infrastructure, with a large supermarket as well as butchers, bakers and newsagents, cinemas with English movies and a few good restaurants.
The Sukhumvit Road area is the largest modern tourism district of the Thai capital and also the area by far most preferred by foreign residents in Bangkok.
In the section from the Soi Nana crossroads to Soi Sukhumwit 21 (Asok Intersection), there are many shops catering to foreign tourists, where jewellery, leather goods, ready-made garments and souvenirs are sold, car rent and other service are offered. You can find several custom made tailor shops along Sukhumvit, where you can get your suit or dresses made at a reasonable price. Your dress can be made in a couple of hours and delivered to your place. Inside the lanes off the road, there are numerous fashionable residences, hotels, apartment houses, and some really good restaurants.
To the north of Sukhumwit Road is the extension of Petchburi Road which does not have many pedestrians in the daytime. After dark, however, the long street is brightened with colorful neon signs and enlivened by people going out to enjoy themselves in dozens of entertainment Places along the street.
Sukhumvit Road actually is not just a city street but also the city streetís cross-country extension for more than 400 kilometers along the eastern seaboard, passing Pattaya and up to Trat at the Cambodian border.

---
Send mail to webmaster@HelloSiam.com with questions or comments about this web site.
Copyright © 2000 - 2002 HelloSiam.com All rights reserved.