---
Silom - Suriwongse
Bangkok's financial center and original tourist enclave is located along a major boulevard known as Silom Road. This district has transformed in half a century from paddy fields into the most important business and financial center of Bangkok . Today, from end to end, these two parallel streets are full of big blocks of multi storey buildings, in which are banks, finance firms, insurance companies, export-import houses, hotels, airlines offices, restaurants, shopping arcades, department stores, and entertainment establishments.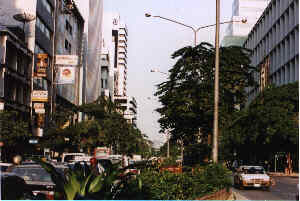 The Silom Road area is a modern business and tourist district with a high density of banks as well as the finest hotels in the city. For the business traveler, Silom Road is convenient because the distances to banks and offices of internationally active companies are short. However, Silom Road is one of the parts of town with a particularly bad air pollution.
Near to Silom Road is Lumphini Park, indeed a nice walled garden of about one square kilometer in size, with an artificial lake, big enough to support a company that rents out small rowboats, and a joggers' path furnished with structures and instruments for exercising. Lumphini Park closes at about 20:00 - actually a shame because it would be nice to stroll there in the evenings. During much of the day, Bangkok's climate is too hot for walking around outside.
It is not a main shopping area, and in spite of many tourist oriented hotels, it is not the main area for tourists on package tours. For shopping, the Siam Square area has many advantages over the Silom Road area, and the newer and faster expanding area for visitors on package tours is along Sukhumvit Road.
The Silom Road area also has the oldest nightlife district for foreign visitors, called Patpong. A small area in this district, is famous for various kinds of entertainment--wine, beer, music, dancing and the happening nightlife.
Sightseeing attractions are minimal and the congestion is unnerving, but Silom offers dozens of moderate to super-luxury hotels, exclusive restaurants, high-end shopping boutiques, great sidewalk shopping, and the infamous nightlife area of Patpong Road. Riverside hotels such as the Oriental and Shangri La are world famous for their extremely high levels of service.

---
Send mail to webmaster@HelloSiam.com with questions or comments about this web site.
Copyright © 2000 - 2002 HelloSiam.com All rights reserved.