---
Siam Society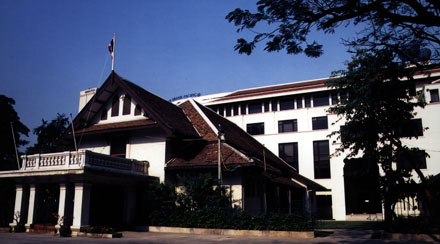 THE SIAM SOCIETY was established in 1904, under Royal Patronage, as an organization for those interested in the artistic, scientific, and cultural affairs of Thailand and neighboring countries.
The Society maintains an excellent library, which occupies the second and third floors of the newly-completed Chalerm Phrakiat Building. The Society presents exhibitions in the Hatthamalai Galleries on the fourth and fifth floors of the new facility, along with lectures and performances in The Hall.
The Society's publications program produces books and monographs, along with The Journal of the Siam Society and the Natural History Bulletin. The Society conducts study trips to places of archaeological, historical, and cultural interest in Thailand and abroad.
The 175-year-old Kamthieng House on the grounds of The Society's home provides an example of a traditional Northern Thai house and serves as an ethnological museum with artifacts of rural life and an important collection of wood carving. The Saengaroon House reflects the architecture and milieu of Central Thailand.
Annual, Life, Student or Institutional Membership in The Society is open to all who share a concern for preserving the cultural heritage and the natural and built environment of Thailand and neighboring countries.
Siam Society is located at 131 Asoke Road, Sukhumvit 21, Bangkok. Telephone 661 6470-77.
For more information, click here or visit "www.siam-society.org"

---
Send mail to webmaster@HelloSiam.com with questions or comments about this web site.
Copyright © 2000 - 2002 HelloSiam.com All rights reserved.