---
Siam Park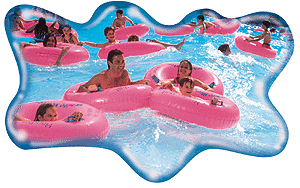 Siam Water Park is a huge entertainment complex northeast of the city, merely a 60-minute drive from the Lard Prao flyover, and is located in suburban Amphoe Minburi. The park features an extensive man-made sea with artificial surf, whirlpools, fountains and waterfalls, and towering water slides amid carefully landscaped gardens. Satellite attractions include children's playgrounds, aviaries, and open zoo and botanical gardens. About half of the complex is devoted for swimmers and the rest for a selection of rides and amusement games. Facilities include changing rooms, swimsuit rental, fast food and bus from entrance to water park. During holidays and festivals, the park hosts circus or similar entertainments.
The complex is open daily from 10:00 A.M. to 6:00 P.M. (weekdays) and 9:00 A.M. to 7:00P.M. (weekends). Admission fee is 200 Baht for adults and 100 Baht for children. Membership fee is 300 Baht per year. Bus service: No. 26 and 27 from Victory Monument. Telephone - 5170075-9.

---
Send mail to webmaster@HelloSiam.com with questions or comments about this web site.
Copyright © 2000 - 2002 HelloSiam.com All rights reserved.