---
Sanam Luang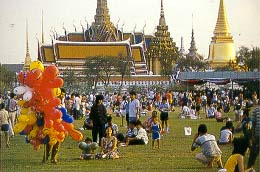 This huge public ground is in front of the Grand Palace, also known as the Phra Mane Ground, translated in English it means Royal Field. Special activities or ceremonies such as the Royal Ploughing ceremony in May, King's Birthday in December and the New Year Festival also take place here. The are is also popular for kite flying competitions, especially during the months of March and April.
At the northern part of Sanam Luang, opposite the Royal Hotel is a small statue placed in small white pavilion. The Goddess of the Earth edifice was built during King Chulalongkom's reign (1868-1910) to provide public drinking water.
Located at the southeast corner of Sanam Luang a graceful, temple-like structure houses Lak Muang, a stone pillar placed there by King Rama I, the first monarch of the present Chakri Dynasty, as the foundation stone for his new capital city of Bangkok. All distances within Thailand are measured from this point. Lak Muang is believed by many to have the power of granting wishes. Accordingly, it's a preferred site for vendors of lottery tickets.

The Weekend Market of Bangkok used to be held here but was moved to Suan Chatuchak on Phahonyothin Road.

---
Send mail to webmaster@HelloSiam.com with questions or comments about this web site.
Copyright © 2000 - 2002 HelloSiam.com All rights reserved.