---
Safari World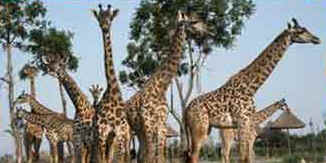 Safari world commenced operations in 1988. It is divided into 2 parts. The first, Safari Park with an approximate area of 480 acres, houses a large variety of animals like zebra, Jeers, giraffe, birds, tigers, lion, bears, etc. in natural habitat. The ultimate safari experience featuring hundreds of animals from all over the world. Visitors can drive their own cars or have a good look from one of the Safari World's air-conditioned coaches. English speaking guides are available on request. The drive through the scenic safari park presents a unique opportunity for the closest encounter possible with rare and endangered species of the animal kingdom. Visitors can also see the breathtaking Tiger and Lion feeding show.
The second, Marine Park with an approximate area of 180 acres, exhibits marine and some rare animals. Visitors can enjoy performances by trained animals like dolphins, birds, seals, and monkeys. There are seven exciting shows daily - Spy war action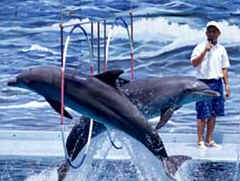 stunt, Water Ski, Dolphin show, Hollywood Cowboy stunt, Bird show, Orangutan boxing and Sea Lion show. There are hundreds of exhibits featuring white tiger, fancy crap garden, tropical rain forest aviary, sea lion exhibit, crocodile garden, Macaw island and many more.
Restaurants and game shops are also scattered within the area. There are fast food restaurants offering a wide range of Thai and international cuisine. Wagons serving beverages, Ice cream and snacks are located throughout the park.
The gift shop offers variety of souvenirs, fro parrot caps, dolphin T-shirts, delicate glassware and exotic Thai handicrafts.
Safari World is open daily between 9:00 A.M. to 5:30 P.M. (last entry to Safari Park at 4:30 P.M.) on weekday and 9:00 A.M. to 6:00 P.M. (last entry to Safari Park at 5:00 P.M.) on weekends and public holidays. Admission fee is 400 for adults and 300 Baht for children. Telephone - 9144100-19, 5181000-19.
Bus services: No.26 from Victory Monument goes to KM.9 Ram Indra Road, from where a mini-bus service serves Safari World.
For more information on Safari World, click here or visit "www.safariworld.com"

---
Send mail to webmaster@HelloSiam.com with questions or comments about this web site.
Copyright © 2000 - 2002 HelloSiam.com All rights reserved.