---
Rama IX Royal Park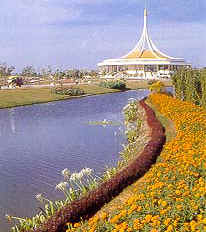 Opened in 1987 to commemorate His Majesty King Bhumibol Adulyadej's 60 th birthday. This is the newest of Bangkok's green area covering 80 hectares (200 acres) and includes a water park and botanical gardens. Since its opening, the latter has developed into a significant horticultural research center. A museum with an exhibition on the works and life of the King sits at the center of the park. Extensive botanical gardens and central displays are popular with local Thais, foreign expatriates and visitors alike.
Located 15 Miles/24 KM outside the city center, itís a bit inconvenient but worth the drive if youíre yearning for cleaner air, and itís far less crowded than the other parks in the city.
The park is located on Si Nakarin Road. Admission fee is 10 baht.
Bus service- Non air-conditioned buses No. 2, 25, 38, 48 and air-conditioned buses No. 1, 8, 11, 13 to Soi Udomsuk (Sukhumvit Soi 103) and then by mini-bus to the park.

---
Send mail to webmaster@HelloSiam.com with questions or comments about this web site.
Copyright © 2000 - 2002 HelloSiam.com All rights reserved.