---
Rama IX Bridge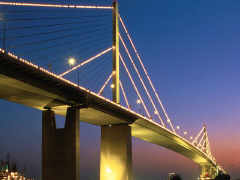 Another bridge across the Chao Phraya River, is part of the express way, the Tha Rua (Port)-Dao Khanong route. It is the world's longest single plane cable-stayed bridge. The overall length is three kilometers. The distance between its two main supporters measured from Bangkok side to Thonburi side is 450 meters.

---
Send mail to webmaster@HelloSiam.com with questions or comments about this web site.
Copyright © 2000 - 2002 HelloSiam.com All rights reserved.