---
National Culture Center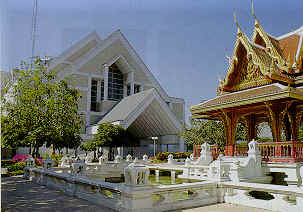 The National Cultural Center is the local point or cultural exchange both at the national and international levels. Its main objectives is to enhance the awareness of the Thai people of the value of Thai culture to the extent that they will guard it with ardent care and preserve it as part of their eminent national identity. Inside the center there is a large assembly hall, small meeting hall, open air theater, library, language laboratory, and audio-visual laboratory. It is located on a large land area of 23 Rais on Ratchadapisek Road, Huai Khwang District in Bangkok. For more information please telephone 247-0028 or 247-3201.
National Library
The National Library was originally established in the compound of the Royal Palace under the name of "Ho Samut Vajirayarn". It was moved to a four-storeys building constructed at Tha Wasukri in 1963. Its services became more extensive, covering "Ho Phra Samut Vajirayarn", a place for keeping stone inscriptions and Buddhist inscription cases, music library of the late H.R.H. Prince Paribatra Sukhumbandhu, Narathip Center where ancient inscriptions are kept for social research, Soonthraporn Audio Visual Center including facilities for showing documentary films. Technical meetings, seminars and exhibitions, are organized on regular basis. National Library opens for the public daily form 8:00 AM to 4:30 P.M. except during official holidays.
Museum of Imagery Technology
The first camera and photograph museum established in Thailand and Asia, is located at the same building as the Faculty of Science, Chulalongkorn University. The first camera and photograph museum to be established in Thailand and Asia, is located at same building. Historic photographs and imaging equipment, as well as its technological evolution are collected and displayed in the form of camera and imaging technology museum. Modern photographic arts, techniques and printing technology as well as advanced technology of three dimensional photographs, electronic photography, and printing technology are also exhibited. It is open on Monday to Friday from 10:00 A.M. to 3:30 P.M. Admission fee is 100 Baht. For more information please call 218-5581-2.
Museum of Sciences and Planetarium
Located next to the Eastern Bus Terminal (Ekamai) on Sukhumvit Road, this is an exhibition center on a variety of scientific knowledge including astronomy, communication technology, and biology. Among special events organized are periodic exhibitions, movies, lectures and discussions in subject matters related to sciences and astrology. Visitors can also enjoy seeing an interesting aquarium, a computer world, a planetarium for solar system studies, as well as other devices created for fun and education. It is open daily except Mondays and public holidays from 8:30 A.M. to 4:30 P.M. Admission fee is 30 Baht for adult and 15 Baht for children. For more details, please call 3925952, 3902301.
Philatelic Museum
This museum, where they do have every Thai postage stamp, from the very first one up to the latest one, is certainly worthwhile for all stamp collectors, and for all of you who like small works of art, because the Thai postage stamps really are small works of art. Thai and foreign stamps of the past are on display. The collections of post books in both Thai and foreign languages are available at the library. Stamps and accessories for stamp collection are on sale. The museum is on the 1st floor of the Metropolitan Postal Bureau behind Sam Sen Nai Post Office, Saphan Khwai area. It is open on Tuesday to Saturday from 9:00 A.M. to 4:00 P.M. Admission is free.

Museum of Pottery
The museum building is a private house by the river, which features a fine collection of ancient potteries including the exquisite Benjarong or five-colored porcelains. It is situated at the back of Fine Arts College, next door to Thammasat University. Interested persons may visit the premises in group tours by prior arrangement with Swait Sopha Foundation which is located at House 5, Phra Athit Road (Telephone 224-1373, 224-1388) during official hours. Admission fees is 50 Baht.
Hall of Railway Heritage
This is a train museum where steam engines, train models, and miniature trains of various sizes are exhibited along with the story of world railway systems. There are photographs and paintings depicting development of world railway systems and several other related objects.It is located on Kamphaeng Phet Road, to the North of Chatuchak Park near a multi-purposes parking lot. It is open to the public only on Sundays. For more information please contact the Thai Railfan Club, Tel. 2432037-9.
Thai Labour Museum
Located near the Makkasan Railway Station, Nikhom Makkasan Road, this small museum exhibits labour history of Thailand from the pat to present. It is open on Wednesday to Sunday from 10:00 A.M. to 5:00 P.M.
Prasart Museum
This museum is at 9 Soi 4 A, Krungthep Kritha Road off Srinakarin Road. It houses a vast collection of artifacts from prehistoric to Bangkok periods. The imitation of some beautiful Thai architecture is scattered within the museum complex. Prasart Museum is open everyday except Monday from 10:30 A.M. to 3:00 P.M. Admission fee is 500 Baht. Contact the museum at 3793601 and 3793607 prior to your visit.
Ban Chang Thai
This house is where Thai puppets are made and displayed. It is situated at 38 Soi 10 Ekamai Road off Sukhumvit Road. Thai puppet shows are held occasionally. Call 391-3807 for more information.
Bangkok Doll Museum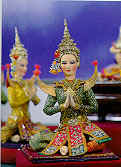 Located on Soi Ratchataphan , off Ratchaprarop Road, this museum exhibits dolls from many countries including Thai dolls in both classical and tribal costumes. Dolls dressed in classical theatrical outfits representing characters from the Ramayana, tribal people in various parts of the country, people of different professions, cuddly dolls for children,etc.
It is open from Monday to Saturday from 8:00 A.M. until 5:00 P.M. No admission fee is required. Call 2453008, 2452512 for more information.
Rare Stone Museum
The museum features a fascinating display of over ten thousand unique pieces of rare stones from Thailand and various countries around the world. Among the items are precious stones, fossils, mineral crystal objects, stalactites, etc. The museum is located at 1048-1054 New Road, Bangrak and is open daily from 8:00 A.M.- 5:00 P.M.. Admission fee is 100 Baht. Telephone - 2365666.

---
Send mail to webmaster@HelloSiam.com with questions or comments about this web site.
Copyright © 2000 - 2002 HelloSiam.com All rights reserved.