---
Shopping areas
Chao Phraya Tower Shopping Arcade
Offers designer boutiques, leather shops, Thai silk shops and art galleries. Opens daily from 10:00 A.M. to 7:00 P.M. It is located at 23 Rongnamkhaeng Lane (next to the Shangri-La). Telephone 237-0077.
Mah Boon Krong Center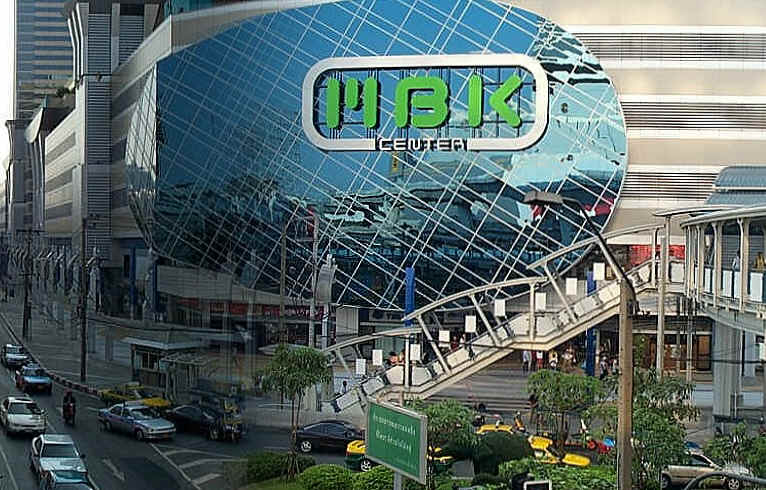 Built in 1986, this 7-story high and 300 meters long complex was the biggest shopping center in Bangkok. Mah Boon Krong Center (MBK), next to Siam Square, is a window on popular culture. (Not that you'll find much to buy, unless you're looking for plastic shoes, polyester dresses and counterfeit watches.) It's very Thai and always bustling, while the upscale malls seem to echo. On the upper floors, dozens of shops are dedicated to the second-most-important status symbol - the mobile phone (the first being Mercedes).
Nowadays, it's still one of the busiest. You can find almost anything you can imagine here ranging from cheap clothing to the pricey home furniture in the market-style atmosphere in air-conditioned comfort. With newly opened entertainment center on the seventh floor, where you can find 7 movie theaters and 40 lanes bowling alley, all thse make MBK the one stop destination. New look for the new millenium has been added to both interior and exterior.
MBK center is open daily from 10 A.M. to 9 P.M. It is located on the Southwest corner of Phyathai and Rama I Road. Teophone 217-9111.
Oriental Plaza
Exclusive with international fashions, art galleries and jewelry. Daily 10 am-6 pm. It is located at 301 Charoenkrung Soi 38, New Rd. (next to the Oriental Hotel). Telephone 236-0411.
Pantip Plaza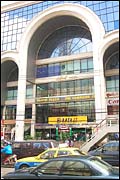 The ultimate source for computers, pirated CDs, electronics. It is a five-story mall with shop after shop selling computers and electronic gear. Usually there's nothing (except pirated software) that can't be found cheaper in Hong Kong and much cheaper in the U.S., but because of the Baht devaluation, computers and printers are temporarily at bargain prices. This is the place to go to get all the computer stuff you need - Hardware, Software, video games, MP3 music, VCD and DVD movies. If what you want is a cheap CD packed with a bunch of new software application, you have come to the right place. Known to the Thai computer lovers as a place you can buy cheap pirated software, Pantip Plaza is also the ultimate source for electronics. Five-story mall with floor after floor of computers and electronic gear. If you can't find any computer product you want here, it probably won't exist.
Take a taxi there. Most shops open around 10:30 A.M, and although they are open unitl 8:00 P.M., don't go later than 3 P.M. unless you want to spend hours in a traffic gridlock. It is located on New Petchburi Road between Phyathai and Ratchaparop Roads (close to Pratuunam Market and Amari Watergate Hotel).
Seacon Square

Seacon Square, Asia's largest Shopping and Entertainment Complex and one of the world's five largest, opened on Srinakarin Road of eastern Bangkok. One of the most outstanding and eye-catching of the city's shopping complexes, Seacon Square with a total building are of 500,000 square meter, a facing running 700 metres along Srinakarin Road, equivalent to 96 football fields.
The city zone incorporates the bright and lively colors of the busy shopping complexes. The Main Atrium is a meeting place, completed with greenery, a bubbling fountain and statues; while the nature zone's decoration and design exemplifies the natural environment.

Seacon Square is for the whole family to enjoy with a whole host of diversified attractions including Robinson Department Store, Lotus Supercenter, amusement theme park "Yoyo Land", multiplex cinema "Seacon 14", International Book Forum, DK Books - reputedly the biggest bookstore in Thailand. Thailand's first motion simulation theatre "The Simulator", an 18-hole miniature golf course, international food court and 400 leading brand name shops.

Few will want to waste an entire day battling traffic in order to visit this remote, American-style mall. It's not far from the BITEC convention center. It is located at 904 Srinakarin Road. Telephone 721-8888. For more information, click here or visit "www.seaconsquare.com"
Siam Square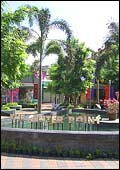 This square is the cluster of Sois (alleys) jammed with independent shops and stalls selling music, fashions, clothing, shoes, handbags and accessories. The area also has several book-stores stocking leading publications and plenty of restaurants. The plaza converted from parking lot, Center Point, is now the hot spot where the youngsters come to see and to be seen. Along Rama I road, you can find 3 movie theaters in which one named Scala still plays movie in the 1000-seat grand theater style.
It is the area on Rama I between Phaya Thai and Henri Dunant Road.

Siam Center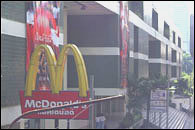 Near the Siam Inter-Continental and Siam Square, is Siam Center, a huge complex filled with restaurants, flower shops, movie theatres and such famous names as Gucci, Lanvin and Polo. One of the very first shopping center in Bangkok, Siam Center was a place where teenagers came to hang out with friends. Nowaday, it is still a place where the young and young-at-heart go for trendy fashions. Top local fashion designers and brand name labels can be found here.
The Siam Square District - Bangkok's shopping and entertainment hub, bursts with excitement day and night. Here you will find some of the city's most vibrant shopping centers including the new Siam Discovery and World Trade Center, cinemas, restaurant and nightclubs, all within walking distance. Siam Square is also conveniently located close to the city's two major Silom and Sukhumvit Roads business districts, Chulalongkorn University and major tourist attractions such as Jim Thompson's House and the Erawan Shrine. It's the very pulse of energetic Bangkok. It is open daily from 10:00 A.M. to 10:00 P.M. Located at 965 Rama I Road. Telephone 251-1890.
Siam Discovery Center
Siam Discovery Center is situated at Pathumwan intersection, one of the busiest shopping and leisure area in Bangkok, next to the Sky Train BTS station and 15+ public bus routes with 2,500 cars parking facility. Located on the 6th and 7th floor of Siam Discovery Center is Grand EGV, the most comfortable, grandiose and up-to-date movie theater in Thailand. Grand EGV also has a 1,600 sq.m. of retail spaces called 'Movie Walk'. The area provides the space for over 50 retail stores under the 'Movie Art Gallery Theme'.
It is located at 989 Rama I Road and open daily from 10:00 A.M. to 9:00 P.M. Telephone - 6581000-19.
World Trade Center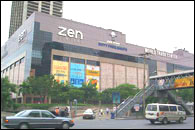 The World Trade Center encompasses many shops, restaurants and an ice-skating rink. A 330,000 square meter shopping mall with 2 prestige department stores (Isetan and Zen), 300 plus retailing stores selling almost everything from designer clothes and expensive jewelry and watches to rare antiques and brand new automobiles. Jim Thompson's silk shop is also located here. The Thailand duty free shops are located on the 7th floor. Other facilities include a 1,800 sqare meter world-class ice skating ring and 11 mini movie theaters.
There is a Japanese department store, Isetan.
It is open daily from 10:00 A.M to 9:00 P.M. It is located at 4 Rajdamri Road. Telephone 255-9400.
Peninsula Plaza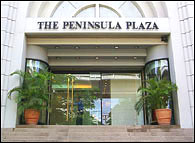 This French-style multi-storey building is one of a very first upscale shopping plaza in Bangkok. Located between Grand Hyatt Erawan and The regent Bangkok, The Peninsula plaza houses imported brand name labels, jewelleries, top local fashion designers and gourmet shops.
It is located on 153 Ratchadamri Road and open daily from 10:00 A.M. to 9:00 P.M. Telephone - 2539672-3.
Amarin Plaza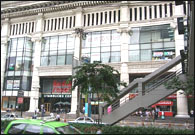 Once a popular shopping plaza among Thai shoppers and foreigners, Amarin Plaza is a location of the first McDonald in Thailand. Radio Shack and Starbucks also have their presence here. Sogo Department Store presents its Japanese-inspired goods in modern glitter.
It is located at 494 Phloen Chit Road and open daily from 10:00 A.M. to 9:00 P.M. Telephone - 255-0831.
Gaysorn Plaza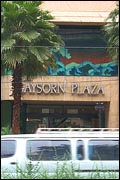 Gaysorn Plaza is an international level shopping centre located in the heart of Bangkok's shopping and leisure district. Surrounded by over 11 luxury hotels, over 500,000 square metres of office space, and numerous department stores and shopping centres. Open in December 1994, Gaysorn Plaza is a seven floor complex with a total built area of 42,000 square metres - three floors of executive offices on top of four and a half storey retail podium ( 12,500 sq.m.), and two and a half floors of parking for 415 cars. Planet Hollywood in located in Gaysorn Plaza and it is just beside Narayana Phand.
It is located at corner of Phloen Chit and Ratchadamri (Ratchaprasong intersection) and is open daily from 10:00 A.M. to 9:00 P.M. Telephone - 656-1149.
Old Siam Plaza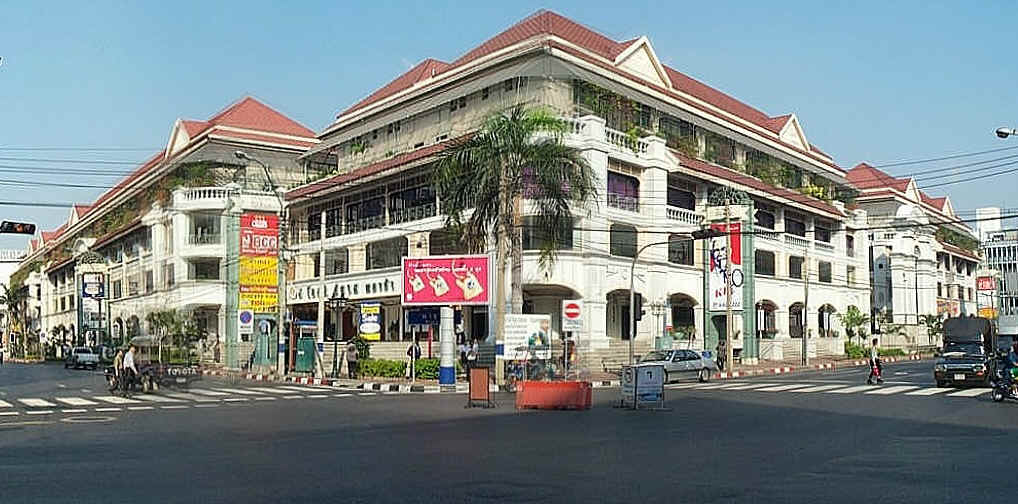 This shopping center is located near Wang Burapa and Pahurat and very close to Chalerm Krung Theater. The shops in this complex are quite modern and products of all kinds are sold here. There are also many restaurants, fast food outlets serving delicious Thai cuisine and Thai sweets. A lot of shops selling guns, pistols and ammunition are located in this plaza and in the area around this building.
River City Shopping Complex

It is Bangkok's first river side shopping complex. At the River City Shopping Complex, you'll find a veritable feast for your shopping experience. It is home to Bangkok's arts and antiques center and over 150 shops selling quality Thai products from Thai silk and cotton, jewellry, home décor, paintings, leather, tailoring to souvenirs from all parts of the country.

You can have a special meal set at one of the range of international cuisine restaurants and enjoy the splendid view of the Chao Phaya River both day and night.

They also have river tours that are catered to all your needs, be it a ride through Bangkok's canals, a cruise to various attractions or a delightful dinner cruise. Under one roof that you can have them all -- the River City Shopping Complex.

A free shuttle boat operates to and from hotels on the river, including the Oriental, Shangri-La, Royal Garden Riverside, Royal River and Menam Hotel. They are located beside Sheraton Royal Orchid Hotel. For more information, click here or visit "www.rivercity.co.th"

---
Send mail to webmaster@HelloSiam.com with questions or comments about this web site.
Copyright © 2000 - 2002 HelloSiam.com All rights reserved.