---
Flowers and Fun Buys
Not least in Thailand's shopping kaleidoscope are a host of pleasure and fun buys, ranging from fabulous fresh orchids to artificial flowers, toys and an array of inexpensive items found on market stalls.
Thai Orchids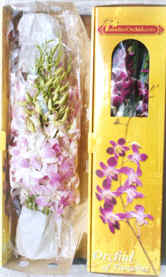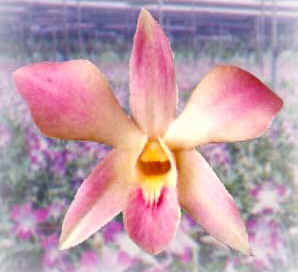 Thailand is blessed with a huge variety of orchids Through meticulous cross-breeding, plants previously found only in their natural forest habitat have been domesticated and now more than a thousand species are available from specialist orchid farms.
Magnificent colors and durable beauty make orchids a very popular purchase. Specially packaged flowers, complete with water supply, are easily transported and long retain their freshness and beauty. Orchids may be bought at many shops in Bangkok and at Bangkok International Airport.
Artificial Flowers

With nimble fingers and a sure eye for beauty, Thais are adept at producing super artificial plants and flowers. In what is a rapidly growing export industry, a wonderful variety of faithful replicas and original imaginative creations are available. All are entirely hand-made and relatively inexpensive, and make splendid items for home decoration.
Thai Dolls and Toys
The art of doll-making in Thailand dates back hundreds of years and remains very much alive today. Doll collectors will delight in a broad assortment of detailed and beautifully crafted figures of classical dancers in full costume, hill tribe people in their traditional colorful dress and rural folk. For children there is a variety of soft cuddly dolls manufactured according to the strictest international safety requirement.
Fun Buys
On the fun side, you will enjoy the city's numerous traditional markets. Pak Khlong Talat, for example, overflows tropical fruits, fabulous flowers and fresh produce of all kinds. The Weekend Market, on the other hand, is packed with stalls selling just about everything from potted plants to pets, from yesterday's antiques to the latest pop T-shirts. Alternatively, street stalls mushroom nightly along Silom Road and other major thoroughfares to offer a colorful array of fun buys.

---
Send mail to webmaster@HelloSiam.com with questions or comments about this web site.
Copyright © 2000 - 2002 HelloSiam.com All rights reserved.