---
Fabrics
The Orient has always been famous for its textiles, and Thailand in particular has a rich tradition of producing fine hand-woven fabrics.
Thai Silk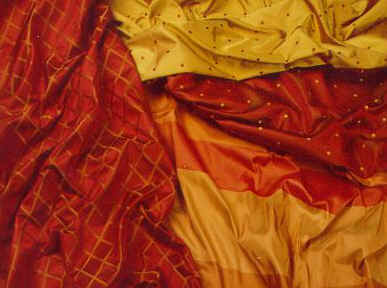 Thai silk, which enjoys worldwide recognition and is perhaps the most popular of all the Kingdom's shopping treasures.
Produced in countless colors and eye-caching designs, Thai silk has traditionally been used for clothing, and is sold both by the length and as ready-to-wear fashions.
With enhanced production in recent years, Thai silk is also now produced in heavier weights ideal for draperies, upholstery and other household furnishing. Additionally, the rich fabric is further used for place mats and napkins, neckties, scarves and other accessories, as well as exquisite coverings for a whole range of souvenirs from jewelry boxes to notebooks.
Mat Mee Silk

A unique style of Thai silk, known as Mat Mee, is a handicraft traditional to the northeast region of the country. Produced from tie-dyed silk threads, the fabric is hand-woven in a variety of beautiful designs, typically distinguished by intricate patterns and subtle colors. Once a neglected craft, Mat Mee silk has been revitalized in recent years through rural development projects initiated by Her Majesty Queen Sirikit. Today, Mat Mee enjoys an unprecedented vogue as a fashion material favored by Her Majesty and other members of the Royal Family.


Cotton and Batik
Thai cotton has gained an enormous reputation over recent years and is today as famous and as popular as silk. A fabric of fine texture and durable quality, Thai cotton is produced in a broad range of colors, prints and embroidered designs, and is found in a wide variety of goods from clothing to bedspreads, table linen, cushion covers, rugs, bags and more.
Notable among cottons products are hill tribe handicrafts and batik designs. Woven in traditional patterns by the tribal people of the North and typically displaying bold designs and often lavish embroidery, hill tribe cottons make and especially attractive buy. Difference in style but equally distinctive are original batiks crafted at several studios in Bangkok.

---
Send mail to webmaster@HelloSiam.com with questions or comments about this web site.
Copyright © 2000 - 2002 HelloSiam.com All rights reserved.