---

Dusit Zoo (Khao Din Zoo)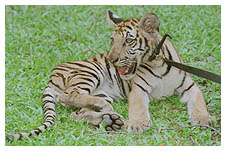 Located beside the Royal Plaza, Dusit Zoo is also known as Khao Din. The Zoo was established in 1939. The Zoo was originally the private gardens of Rama V. There are approximately two million visitors a year. It covers an area of 47.2 Square Acres. This is an old zoo and is extremely popular. Animals from all parts of the world can be found at this zoological park. There's an artificial hill in the middle of the zoo for picnics and family outings. The lush green areas are manicured and certain tropical plants are cultivated here. The compound contains lakes, gardens, animal exhibits and wooded park areas for leisurely walks. A small charge is made for cameras. Dusit Zoo is very large and houses a wide range of tropical wild animals. It also serves as a public park and an area of recreation. In addition to watching the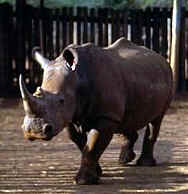 animals it is possible to conduct studies on wild life from within the zoo. Tropical animals to be found include great Grey Kangaroos, Sumatran Rhinoceros, Siamese Crocodiles, Gaurs, Lesser Mouse Deer, American Bison and not to mention other hundreds of species of birds, reptiles and animals. .
This is one of Asia's better zoos. Elephant rides are available. The Zoo attracts local as well as foreign families looking for a peaceful day in beautiful surroundings.
Admission fee is 30 Baht for adults and 5 Baht for children. It is open to the public from 08:00 to 18:00 hours and for more information you are advised to call 281-2000.

---
Send mail to webmaster@HelloSiam.com with questions or comments about this web site.
Copyright © 2000 - 2002 HelloSiam.com All rights reserved.