---
Democracy Monument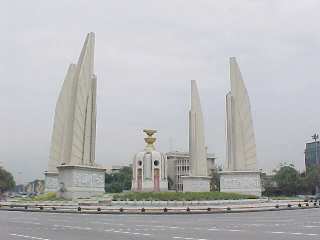 Trapped in a huge traffic circle, this monument with its 24 feet or 7 meter-high granite wings is an easy landmark to spot. This monument was erected in 1939 to remind the revolution of the country administration from absolute monarchy to democracy (constitutional monarchy) in 1932.
Many elements of the monument imply events involved in the nation's administration and political change. The monument, designed by Italian born Thai citizen, Silpa Bhirasi, represents a part of the establishment date, 24th June 1932 (2475 B.E.). The four wings of the tower are each 24 Meters high, the pedestal (holding a copy of constitution) is 3 Meters high ( June is the third month of the Thai calendar), and the 75 cannons encircling the structure representing the year.The Democracy Monument is the symbolic structure that represents liberty and democracy in Thailand.
It is located on Ratchadamnern and Lan Luang Roads, Baan Lampoo, it is about 1.6 KM (1 Mile) east of the Chao Phraya River.
This splendid Western-style monument (with an enormous fountain) is dedicated to Thailand's adoption of democracy. In the area between Democracy Monument and Sanam Luang, democracy demonstrators were massacred by the army in 1973, 1976 and 1992. The offerings at this monument honor the dead.

---
Send mail to webmaster@HelloSiam.com with questions or comments about this web site.
Copyright © 2000 - 2002 HelloSiam.com All rights reserved.