---
Crocodile Farm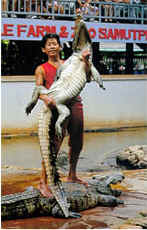 Samutprakarn Crocodile farm and zoo is the largest crocodile farm in the world. Located 10 KM from Bangkok is the World's Largest Crocodile Farm founded in 1950 by the famous Crocodile King, Mr. Utai Youngprapakorn. Mr Utai has been the pioneer not only to preserve the endangered species from extinction, but also to provide a continuing flow of crocodile skins and related products to the world market.
A very large farm with over 30,000 crocodiles. Both fresh and saltwater crocodiles are fed here, as well as a large number of other creatures, including elephants, gibbons, lions and snakes.
The thrilling world famous Crocodile wrestling and Acrobatic Elephant stage show is done every hour from 9:00 A.M. to 11:00 A.M. and 1:00 P.M. to 4:00 P.M. daily, with additional shows at 12:00 noon and 5:00 P.M. on Saturday, Sunday and public holidays.
Discover a photographer's paradise along the zoo's shady walkways while coming face-to-face with our exotic animals
Relive the past at the newest attraction -The Dinosaur Museum, where the past comes to life. The dinosaur museum hasmore than 13 species of life-size creatures of dinosaurs and skeletons are on display, and a slide multi-vision presenting stories on extinct animals and human beings.
Enjoy the ride on an elephant around or a camel, relax in a pedal boat on the lake, monkey around on the playground, test your skills at our shooting range or come aboard our zoo's mini-train for a sight seeing trip you'll never forget. Savor a taste of Thailand at any of many dining areas.
Visitors can take pictures with a crocodile , an elephant or a tiger. Shop for crocodile leather or fish skin handbags, belts, shoes and many more interesting souvenirs of the farm. A definite "must" , when visiting Thailand.
The crocodile farm is located at 777 Taiban Rd., Samutprakarn. It is open daily from 7:00 A.M. to 6:00 P.M. There is an admission fee of 300 Baht for crocodile farm. There is an additional admission fee of 60 Baht for the dinosaur museum. Telephone - 7034891-5, 7035144-8, 2384088-9.
For more information on Samutprakarn crocodile farm, click here or visit "www.crocodilefarm.com"

---
Send mail to webmaster@HelloSiam.com with questions or comments about this web site.
Copyright © 2000 - 2002 HelloSiam.com All rights reserved.