---
The City Pillar Shrine (San Lak Muang)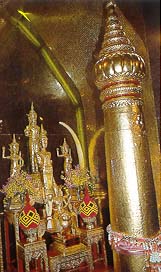 The graceful, temple-like structure houses a wooden pillar placed there by King Rama I in 1782 as the foundation stone for the new capital of Bangkok. In the reign of king Rama IV, a new city pillar was constructed and the form of the shrine was modified to a pavilion with prang- shaped spire. In 1853, there was a big renovation of the whole shrine.

The shrine is across the street from Wat Phra Kaeo.

Located at the southeast corner of Sanam Luang this graceful temple-like Structure houses "Lak Muang" a stone pillar. Lak Muang is believed by many people to have the power of granting wishes. If you're lucky, you may see traditional lakhon dancing in the nearby open-air sala. The dancers have been paid by the faithful whose wishes have been granted by the foundation spirit.

Nowadays, the City Pillar Shrine becomes part of the premises of Ministry of Defence and has been under the care of the War Veterans' Organization since 1948.

The premises is open 24 hours, admission is free. Located on Sanam Chai Road (between Chareon Krung Road and Bam Rung Muang Road, on the east side of the Grand Palace).

---
Send mail to webmaster@HelloSiam.com with questions or comments about this web site.
Copyright © 2000 - 2002 HelloSiam.com All rights reserved.