---
Baan Thai (Thai Village and Cultural Show)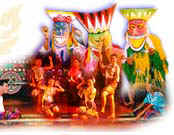 Baan Thai, a Thai traditional village, spectacular floor show and superb restaurant. At Baan Thai village, you will enjoy one of the most memorable experiences of your visit to Thailand as you savor the traditional Thai-style village life of the four main regions of Thailand. You can enjoy the floating market, travel by elephant or samlor (Tuk Tuk), watch monkeys harvesting coconuts and even experience a traditional wedding ceremony.
The Central Plains, the North, the North East and the South all have their own styles of architecture, dress, music and folklore. These are hi-lighted in The Colors of Thailand, a cultural show that you simply must not miss. The spectacular show is staged in a fully air-conditioned theatre and includes traditional dances, festival cameos, Thai boxing and sword fighting.
The Baan Thai Restaurant offers a wide range of traditional Thai dishes, prepared to classic recipes and served in the unique and very beautiful, Khan Toke style.
Baan Thai is located at 7KM. Rangsit-Nakornnayok (Klong 3). Telephone 533-1152, 216-8420, 215-3720-34.
For more information, click here or visit "www.baanthai-th.com"

---
Send mail to webmaster@HelloSiam.com with questions or comments about this web site.
Copyright © 2000 - 2002 HelloSiam.com All rights reserved.