---
Antiques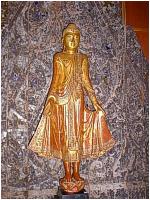 Thai, Chinese, Burmese and Khmer antiques are excellent buys. If you spend the time to look around and shop wisely it is possible to find items of museum quality.
Be very cautious when buying antiques - Thais are famous for their excellent fakes. Government regulations are very strict concerning the exportation of genuine antiques, especially religious items (the export of Buddha images, old or new, is forbidden). If you do find something you like and it is authentic, be prepared for a mountain of paperwork. Before you can take the item out of the country, you'll need approval from the government's Fine Arts Department, which can take up to a month to obtain. Some reputable shops provide this service. For more information on taking antiques out of the country, you are advised to contact, The Fine Arts Department on Na-Pharathat Road or by calling 2217811.
There are many quality antique shops around Bangkok, but the greatest concentration is found at River City Shopping Complex, on New Road, where there is also an antiques auction on the first Saturday of every month. You will also find an especially large concentration of antique shops up and down Silom and Suriwong Roads. Small shops abound in Chinatown.
Some reputable antique shops are:
Erawan Antiques
Erawan Antiques, near the river, sells quality antique furniture, religious artifacts, bric-a-brac and reproductions. They are always willing to discuss the price. The shop is open Monday to Saturday from 9:00 A.M. to 6:00 P.M. They are located at 148/9 Surawong Road. Telephone - 2358981.
Krishna's Asian Treasures
Delightful shop where snarling lions, serene Buddha and erotic ladies peek out of every corner. They have four floors of antiques, semi-antiques and reproductions. You'll find Balinese wood carvings, Burmese wall hangings, Ceylon masks, Indian and Nepalese jewelry, plus quirky things from local artists. It is located at 137/6-7 Sukhumvit Rd. (between Soi 9 and 11). Telephone- 2537693, 2516867.
Anna Antiques
1007 Silom Road, Telephone - 2346816
Art Antique Gallery
Sells Thai, Khmer, Burmese and Chinese antiques. Located at 412/4 Siam Square, Soi 6 (opposite Novotel), Telephone - 2518766
Bae Teck Huat
286-288 Soi Nakhon Kasem, New Road, Telephone - 2221431
Capital Antique Gallery
Ploenchit Road, Telephone - 2527218
Unit 320, River City, Telephone - 2370077
Chai Ma
799-801 Silom Road, Telephone - 2364390
Elephant House
67/12 Soi Phraphinit, Sathorn Tai Rd, Telephone - 2862780, 2862281
Regent Hotel, Rajadamri Road, Telephone - 2502730
Units 409-410 River City, Telephone - 2370077
Peng Seng Antiques
942/1-4 Rama IV Road, Telephone - 2368010
Santiís Art and Antiques
178 Sukhumvit Road, Telephone - 2533391, 2535417
174/4-6 Silom Road, Telephone - 2358071
Thai House Antiques
720/6 Sukhumvit Road (near Soi 28), Telephone - 2586287
U Thong Antiques
1323 Silom Road (corner of New Road), Telephone - 2340328
Yong Antiques
1320 New Road (Charoen Krung), Telephone - 2356199
Paintings

The Thai art scene is vibrant and there are numerous shops offering original works by local artists. Subjects range from renderings of classical temple mural and manuscript paintings to landscapes, typical Thai scenes and contemporary works of high aesthetic value. Art lovers should also remember that local framing is inexpensive and of high quality.
In addition to several art galleries around Bangkok, exhibitions are held regularly at various leading hotels and other notable venues. For details, check the "What's On" column of the local English language newspapers.

---
Send mail to webmaster@HelloSiam.com with questions or comments about this web site.
Copyright © 2000 - 2002 HelloSiam.com All rights reserved.