---
Khao San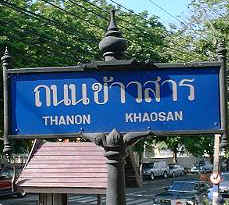 Khao San is Thailand's famous backpacker ghetto.
Out in the street, young travelers nurse beers at plastic tables, while others line up at food stalls to sample sliced pineapple, vegetarian noodles and banana pancakes. Tuk-tuk drivers hail passengers at the corner, while Indian tailors pace the sidewalk in front of their stores, chanting their standard mantra ("Sir, try a suit. Very good price, sir."). Sidewalk vendors hawk jewelry and cigarette lighters, bootleg tapes and fake press passes; storefront vendors sell souvenirs ranging from Nepalese jackets to Balinese masks to novelty T-shirts that read "SEX INSTRUCTOR (First Lesson Free)."
In the alleys, uncertain dogs jog through the shadows, unowned and omnipresent. Placards advertise tattoo parlors and laundry services, traditional massages and hemp-fiber clothing. Colorful stickers on travel agency windows advertise bus and ferry services to Phuket, Ko Samui, Ko Phi Phi and Chiang Mai. Backpackers crowd into dingy Internet cafes to check their Hotmail accounts and surf the Web for travel updates, while suspiciously healthy-looking kids prowl the street with small cards that read "I want to go to school. Please give me 10 Baht." Video movie noises rumble out from open-front restaurants, blasting that time-honored Hollywood litany of screams and explosions, of people calling each other bastards and sons of bitches.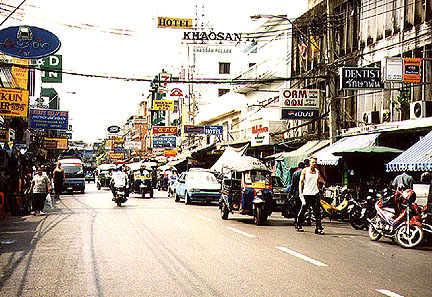 Everyone who lives or travels in Thailand, it seems, has their own assessment of what Khao San Road represents. Local Thais, whose opinions are fueled by a sensationalistic press, consider Khao San Road a place of drugs and licentiousness, of freaks and cheapskates. Bangkok expats dismiss Khao San Road as host to a steady rotation of unwashed cretins who call each other "dude" and sit around comparing tattoos. Upscale tourists avoid the place as instinctively as they would seedy neighborhoods in their own hometowns.
But perhaps the harshest critics of Khao San Road are the backpack travelers themselves, who consider the place a watered-down version of Asia -- a tie-dyed front for conveyor-belt tourism, an insipid gathering place for pseudo-hippies and hipster wannabes. "The Khao San Road scene is way too cliché for my taste," a young traveler was overheard while confiding to her friend. They were both sitting in a cafe on Khao San Road at the time.
In reality, Khao San Road is a place that slithers inside its own stereotype. As Alex Garland wrote in "The Beach", the novel on which the movie "The Beach" is based, Khao San Road is "a decompression chamber for those about to leave or enter Thailand; a halfway house between the East and the West." Khao San Road is not designed to be a static, aesthetic part of Thailand, but a pragmatic duty-free zone -- a neutral territory that has learned to continually reinvent itself in the image of what young budget travelers want.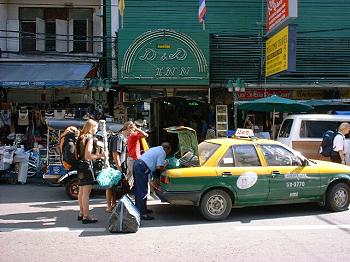 Khao San is probably the best known and most visited street in Bangkok.. . . . if your a foreigner. If you are a native of Bangkok the chances are that you have never been there and have no desire to ever go there. ( Unless you and your friends like to amuse yourselves for a few hours by gawping at impolitely dressed farang travellers going about the serious business of discovering Thai culture whilst enjoying one of the best banana pancakes this side of Saigon. )
Khao San road itself is around 100 years old. The first hotel to open in the area was the Viengtai, on nearby Rambuttri raod. This was opened in the 1960s and is now run by the first owner's grand-daughter. She can remember when the first backpackers appeared in the area in the early 1970s. Legend has it that a group of enterprising Australian students who, having no money for a hotel, came to an arrangement with some local home owners to rent rooms for short periods whenever they passed through Bangkok.
Word quickly spread along the hippie trail and soon cheap guesthouses and restaurants catering to backpackers began opening at the police station end of the road. By the early 80's Kabul, one of the original 3K's ( Kuta - Bali, Katmandu - Nepal, Kabul - Afghanistan ) of the Hippie Trail had been replaced by Khao San. Development went ahead at a rapid pace - every building was converted into a guesthouse, restaurant, souvenir shop, travel agent or mini-mart.
Rooms in guesthouses consisted of hastily partitioned windowless cubicles - it was boom time for chipboard manufacturers in Bangkok. However, one problem remained - the trade was still very seasonal. Depending on the time of year Khao San road could be deserted or overflowing.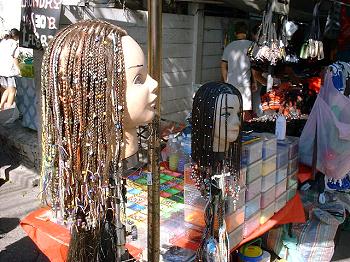 Forward in time to the mid 80s, the cost of international flights has come down dramatically, it is becoming normal to take a year off and travel the world. Farang friendly Thailand is leading the way in providing a haven for international bright young things on a US$15 a day budget. Development spreads to the small alleys leading of Khao San and encompasses neighboring streets. Khao San is no longer considered one of the last resting places of die hard hippies. A new style of bar, shop and restaurant start to appear - they are no longer cheap and cheerful, they're modern, clean, sanitized and westernized for Generation X.
The present day - people who first stayed in Khao San 10 years ago can hardly recognize the place today, so much has changed since. As the wealth of young travelers have increased so has their demand for modern amenities - air-conditioned rooms, internet access, pay by Visa card, 24 hour western food etc. While it is still possible to rent a chipboard partitioned cell most budget jetsetters now prefer well ventilated accommodation that is free from stained mattresses and cockroaches.
Three years ago there was only one internet cafe - Hello cafe, now there are over a dozen. There is a Boot's chemist and a Seven Eleven now ( and Pizza Hut is just around the corner ). Close your eyes and you could be in Tel Aviv judging by the overwhelming voices coming from the large number of Israeli's with backpacks the size of a VW Beetle strapped to their backs.

---
Send mail to webmaster@HelloSiam.com with questions or comments about this web site.
Copyright © 2000 - 2002 HelloSiam.com All rights reserved.