---
Wat Arun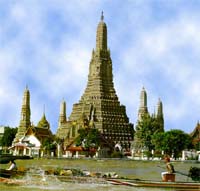 Located on the west bank of the Chao Phraya River, the temple can be reached either by Arun Amarin Road or by boat from Tha Tien Pier, near Wat Pho. Built during the beginning of the Rattanakosin era, the magnificent temple reflects the glory of the Thai culture. The most attractive structure is the 79 meter (260 feet) high pagoda or Phra Prang, which is decorated with ceramic tiles and fragments of multi-colored glass and Chinese porcelain. It is also called the 'Temple of Dawn', Contrary to its name, the most beautiful view of it is from the Bangkok side of the river at sunset. From the upper levels, one has a panoramic view of the surrounding city.
One dawn in 1768 when King Taksin planned to move the capital from Ayutthaya to Thonburi, he travelled down the Chao Phraya River by boat. At dawn, he and his entourage arrived at an old temple and he came ashore to pay his respects. He later named the temple Wat Jang, meaning the Temple of Dawn. It was later renovated by King Rama I and King Rama III and the temple became known as Wat Arun whilst Thonburi was the Thai capital.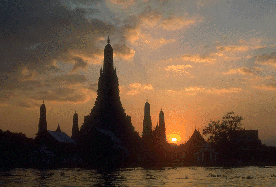 The central prang which is built in late Ayutthaya style, is the tallest prang in Thailand. It is completely covered with cheap Chinese porcelain from broken pots donated to the temple. Rows of yakshas surrounding the prang appear to be supporting the prang. Porcelain floral motifs and stucco kinaris also decorate the prang. The niches nearing the upper part of the prang contain statues of the god Indra riding on his three headed elephant, Erawan. A staircase leads up to the upper platform of the prang which can be climbed for views of the river and sprawling Bangkok.
The corner prangs are smaller than the central prang and their niches contain statues of Phra Pai, the Brahmin god of wind. The central prang represents Mount Meru, the mythical mountain where the gods dwell according to Hinduism, and the four corner prangs represent the mountains surrounding Mount Meru.
At the foot of the prangs, Buddha images in four pavilions depict the birth, enlightenment, first sermon and death of the Buddha.
Admission fee is 10 Baht. The complex is open daily from 7:00 A.M. - 5:00 P.M.

---
Send mail to webmaster@HelloSiam.com with questions or comments about this web site.
Copyright © 2000 - 2002 HelloSiam.com All rights reserved.